Codebox Software
Scrabble Word Checker Script
Published:
A Greasemonkey script that adds a handy floating dictionary-lookup box onto the Lexulous web page.
Scrabble Word Checker allows you to quickly check whether a word is allowable in a game of Scrabble/Lexulous, just type one or more words in the input box and click Enter. The validity of the words are checked online against the selected dictionary (either TWL or SOWPODS) and the results are displayed in a list below the box.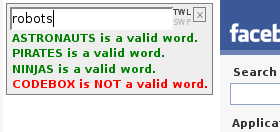 To check multiple words at once, just type them all in the box separated by spaces. Select the dictionary you wish to use by clicking either the 'TWL' or 'SWP' links, and to close the lookup box click the 'X' button. The results of previous lookups remain on the screen for reference, to remove a result from the list just click it with the mouse. The box can be dragged around the screen and left in a convenient place, and this placement will be remembered the next time you use it.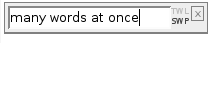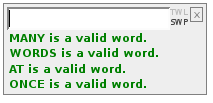 If you are using Firefox, and have the Greasemonkey extension, you can install this script by clicking the Download link.